Today the coach jacket is a staple of streetwear clothing brands. And like most streetwear trends, the jacket has its roots firmly in sportswear.  It seems that every facet of 90s sports wear has reemerged over the last few years as different lines in different brands' catalogues.
The styles that often make the most impact are the pieces that are modelled on the gear the pros, or even the coach used to wear.  The coach is after all the boss man, so everything that he says, does or even wears has to be respected. From sports specialties' Coach Caps, to his branded windbreaker jacket, the coach's whole look has been borrowed.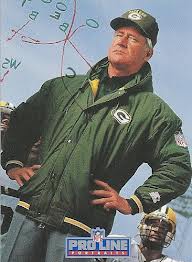 Packers' Lindy Infante stands proud if his trend setting ensemble
Having just bought out a European sports store that closed down in the 90s, we've got our hands on a bunch of authentic 90s coach jackets, still with the original tags. Most are USA Made from '92, and all are in perfect crisp condition. SHOP
Many are the kind of classic fit coach jackets, with the pointed collar and snap-up front buttons that have provided inspiration for streetwear companies like Supreme and Stussy.  These companies are endlessly sourcing old product and getting their workshops to dissect the parts, and assemble their own nostalgic version.